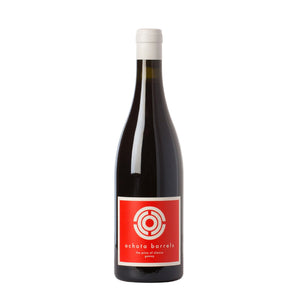 Ochota Barrels The Price Of Silence Adelaide Hills Gamay 2022 750ml
Regular price
$46.00
$0.00
Tax included.
Shipping
calculated at checkout.
2022 the price of silence adelaide hills gamay
in 1985 three clones of gamay were planted high up in the piccadilly valley. A few years later due to its unpopularity they were grafted to chardonnay.
it wasn't until 2013 that Taras convinced his grower mate Sam to chainsaw off the chardonnay grafts and bring back canes from the gamay rootstock
evolving from there, cuttings were taken of these three clones and grafted on established vines in sam's quartz-laden woodside vineyard, planted on a former gold mine, a crop picked in 2019, bushfire in 2020, and finally a beautiful harvest in 2021
a tightly wound classic example of gamay which shows medicinal fragrance, savoury spiced red currants that has a polished mineral palate that is lithe, dense yet elegant in its long and pure finish
pH – 3.35 T.A. – 6.3 Alc. - 12.3 %
handpicked at the end of march
fermented wild
a mix of extended maceration carbonic ferments, destemmed and whole bunch
pressed to seasoned french barriques and puncheons unfined and unfiltered
no additions besides minimal so2
amber@ochotabarrels.com www.ochotabarrels.com
Gamay holds a special place in Taras and Amber Ochota's hearts. It's the one variety they have planted on their home block in amongst the beautiful Hills of the Basket Range.

It will be a few years before we see a wine from those vines but in the meantime, the Price of Silence Gamay is a great stand-in.

This is a beautifully delicate yet juicy number made from three separate clones of Gamay all planted on the same vineyard back in 1985. After a few years as Gamay, the vines were grafted to Chardonnay, Taras helped the Piccadilly Valley grower cut the Chardonnay back and re-graft Gamay. Chainsaws in the vineyard. A few years later we have this wine.

This is one of the fastest Ochota Barrels wines to sell out each year.
If you are one of the lucky few who get to try it, kudos to you.
Reviews:
---
Share this Product
---
More from this collection